Unveiling The Best Hotels For Your Sikkim Sojourn
A vacation calls for plenty of things to do and see. However, end-of-the-day exclusive stay matters for our guests. If you're looking for an exquisite stay that promises quality living and royal treatment, we got you sorted for every kind.
TEMI RESORT-
A rare combination of privacy and indulgent luxury is what serves the soul best when on a holiday to Gangtok. So! If this combination matches your taste, you have come to the right place. Temi Resort is an exquisite boutique hotel with a view facing Mt Kanchenjunga, surrounded by tea garden, a spacious gathering hall, and a garden café cum bar, just the way you want to spend some quality time with your loved ones in between nature and modernity. Give yourself a treat of a variety of local electable eateries made by their private chefs.
ETHO METHO-
A luxurious stay in the Northern part of Sikkim can be challenging. But wait! We know what your heart wants. Etho metho is one such prime hotel in Lachung that promises to give more than your expectations. A lazy romantic morning, curled up in a white furry blanket and a cup of hot Tibetan tea facing an unfiltered earthy ambiance, surrounded by pristine snow-capped mountains all so quiet and divine. Relax and soak into its beauty from your bed facing the wide windows.
MULOM NATURE RESORT-
Are you on a detox holiday in Sikkim? A rare hidden paradise in Mangan, North Sikkim, is everything one could ask for. This resort promises to give you a much-needed bucolic stay while having all the amenities to make up for a blessed holiday. Sit back, relax and enjoy the surrounding landscapes. Simply a total natural treat to a human soul.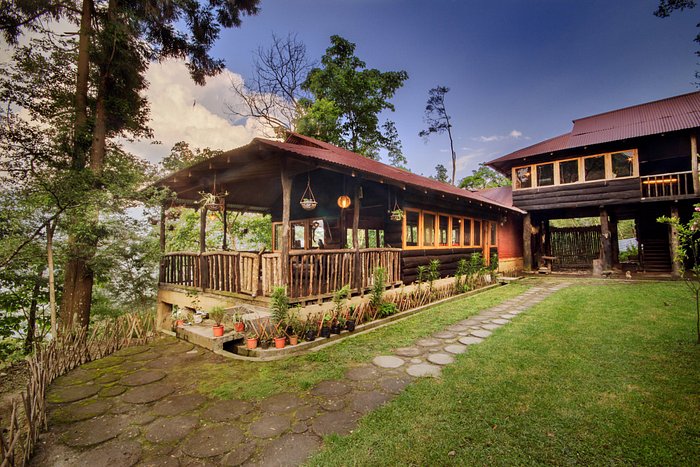 TEMI TEA BUNGALOW –
They say adventure begins with a cup of tea. Rightly said when you book a stay at Temi tea Bungalow in South Sikkim bedded in between lush Temi tea gardens at all ends, shaded by cherry blossom trees, surrounded by blue mountains and white and blue cotton scattered skies above, It's indeed a gift from nature.
The Bungalow's interior has been carefully restored keeping the original British structure intact. It is such a bliss to enjoy the charming views of the verdant surroundings from the glass veranda of this royal bungalow. Surely! Staying at Temi Tea Bungalow is like time traveling.
Early morning walks in between the tea estates all so fresh and green, shining bright with the first ray of sunrise on its leaves is such a captivating moment. One can not only praise the tea plantation but also raise a toast of freshly brewed tea and buy the varieties. This place is sure to give a heavenly experience.
The aura of mountains and lush green tea plantations winding narrow roads and tea pickers with their colourful apparel picking tea leaves is an unmatched beauty beyond words. Just visiting any place for an hour or two is not just enough to capture its true essence. If there is a place to stay and capture its beauty to the fullest, Go! For
APPLE ORCHARD-
As the name suggests, Apple Orchard Resort is set amid a real apple orchard where the guests can pluck apples while roaming around the abundant space. Nested in North Sikkim, Lachen. The stay here is unmatched for every season. During the summer months, one can enjoy the visual treat of sunsets with myriad shades of the sky from blue pink orange, and purple and flowers of every colour and shade that you can think of.
During winters this resort is on the lap of snow-covered mountains and continuous snowfall all so out from your fairy tale books. Apple orchard is one such stop-by where scenic beauty and opulence have been given the top priority. The rooms of the resort are well-appointed with lush amenities and fine interiors.
SO! Relax and soak into the picturesque beauty, all so hard to believe if it's real or a dream. Also, make sure you taste delectable dishes made by their special chefs.
YARLAM RESORT-
A picture-perfect escape from mind-numbing metropolitan life stands this all-so-true Yarlam resort in North Sikkim Lachen. The views are truly spectacular, opening to lush valleys, bright coloured flowers, snow-covered mountains, and mists descending from the skies. The warm rooms housing king-size beds allow you to lie down comfortably and have a sound sleep. Every room has an attached washroom with hot and cold running water facilities. A true luxury to ask for. The view from those wide windows is not just enough to be captured by cameras, it's to be captured in your soul. A healing sight indeed.
The hotel is also equipped with facilities like a multi-cuisine restaurant, Internet, games room, conference facility, and much more, making it ideal for those who are looking to work from the hills.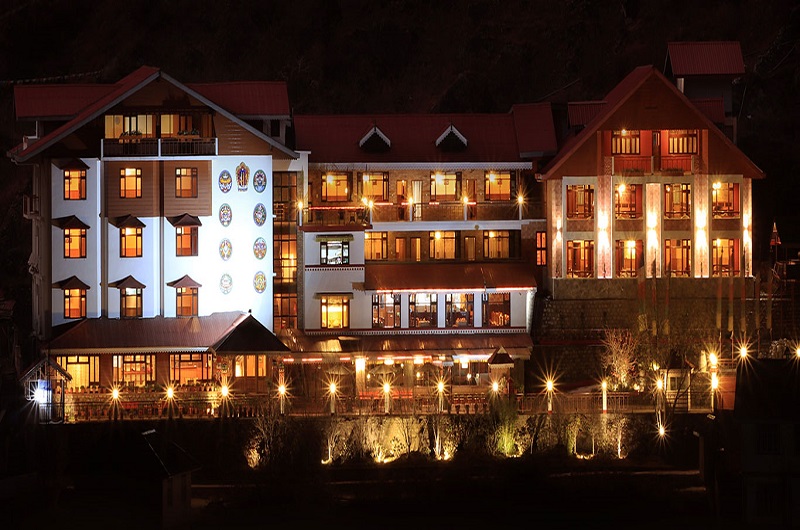 VILLA NEROLA -
People who love offbeat places, remote destinations, and complete isolation couldn't find a place better than Villa Nerola located at Turuk Village, Namchi South Sikkim.
This beautiful villa is furnished with local teakwood, giving it a warm and inviting ambiance. Every room juts out to enhancing, mesmerizing views of the Himalayas and open skies changing colour and pattern now and then. The villa also has a lounge where guests can spend quality time with their friends and family on a leisurely evening over a cup of coffee and local snacks.
CEDAR INN DARJEELING -
When in North Bengal for a holiday, one can never have enough of Darjeeling. The Queen of Hills has a lot to give away in every season that you visit. If you're looking for a luxurious stay amid the Blue Mountains, lush greenery with sophistication at its mark, Ceder Inn defines your taste. This boutique hotel is located high above the main town, nestling amidst groves of evergreen trees in serene environs.
They have a corner for every type of guest, if you're a reader they have a library where u can sit and read facing a picturesque view. If you are someone who would like to just spend some quality time over a cup of Darjeeling tea you have an open garden and lobby to do so. Every guest room is well equipped with all kinds of comfort one can ask for. It's time to unwind, relax and enjoy the breathtaking view of divine Mount Kangchenjunga so close to your naked eyes.